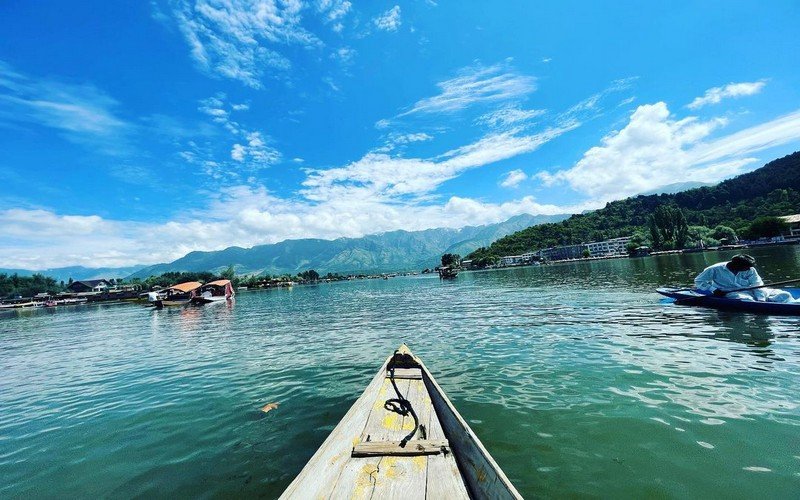 Srinagar Tour Packages
Labelled as The Heaven of Earth, Srinagar truly lives up to its name, and is located on the banks of the river Jhelum. Enjoy the best of Srinagar with our multiple Srinagar tour packages that are ideal for everyone.
Our Srinagar packages offer one the opportunity to discover not only the picturesque places but the region's rich flora and fauna at sites like Salim Ali National Park and Dachigam National Park. With our wide range of Srinagar trip packages get along with us on the wonderful journey of witnessing the amazing places like- Dal Lake, Shalimar Bagh, Nishant Bagh, ChashmeShahi, Tulip Garden, Shankaracharya Temple, Pari Mahal, and many more astonishing places too.
Apart from visiting places, Enjoy staying in houseboats amidst the serene Dala lake, visit the Apple orchard and let the picture-perfect scenes be etched in your memory forever. Enjoy paragliding in Aru village, Gulmarg and Harwan garden, trek to Sinthan top, a mountain pass in the PirPanjal Mountain ranges. Visit the floating market run at the corner of the Dal lake, where vegetables and fruits are sold around the waters on the Shikars. We offer our clients a good range of Srinagar holiday packages that are affordable and customizable that will surely make your trip unforgettable.
| | | | |
| --- | --- | --- | --- |
| Tour Package | Price | Duration | |
| Srinagar Tour Package From Mumbai | 22,500 | 2N/3D | |
| Srinagar Tour Package From Hyderabad | 22,000 | 2N/3D | |
| Srinagar Tour Package From Pune | 23,000 | 2N/3D | |
| Srinagar Tour Package From Chennai | 22,000 | 2N/3D | |
| Srinagar Tour Package From Ahmedabad | 22,000 | 2N/3D | |
Tour Packages
Places, Things To Do & Activities
Frequently Asked Questions
Q :
What is the best time for the Srinagar tour?
Though one can plan a trip to Srinagar all through the year, April to October is considered the perfect time to explore Srinagar when the weather is quite salubrious. If one enjoys snowfall, head towards Srinagar from December to February.
Q :
What activities can be done in Srinagar?
Apart from exploring astounding places one can indulge in some thrilling yet interesting things. Here are some of the exciting things to indulge in on your next vacation- trek to Shankaracharya Hill and Hari Parbat, go birdwatching at Manasabal Lake, enjoy rafting at Sonmarg, go skiing at Gulmarg, enjoy paragliding at Pari Mahal.
Q :
How many days are enough to visit Srinagar?
5 days are enough for the Srinagar tour. During one's 5 day tour one can easily plan to explore the picturesque hill stations, pristine rivers, massive mountain peaks, iconic places,vibrant markets, and much more.
Q :
Which are the best places to visit in Srinagar?
Indira Gandhi Memorial, Dal Lake, Nishat Bagh, Nigeen Lake, Chashme Shahi, Hari Parbat, Shalimar Bagh, Aru Valley, Jamia Masjid, Anchar Lake, and Pathar Mosque are some iconic places to explore during your vacation in Srinagar.
Q :
How can I book the Srinagar trip with Travel Ride?
You can book your Srinagar tour package from our website. We offer our clients a wide range of Srinagar tour packages from different cities. Our packages are well designed and hold a systematized tour itinerary that will transfer you to one of the best places in Srinagar.
Q :
What is the cost of a Srinagar tour Package?
Choose from the wide range of Srinagar tour packages from our website. Our Srinagar tour packages are well designed and hold an attractive tour itinerary that not only covers the fantabulous major places in Srinagar but also gives an insight into the rich culture of Srinagar.