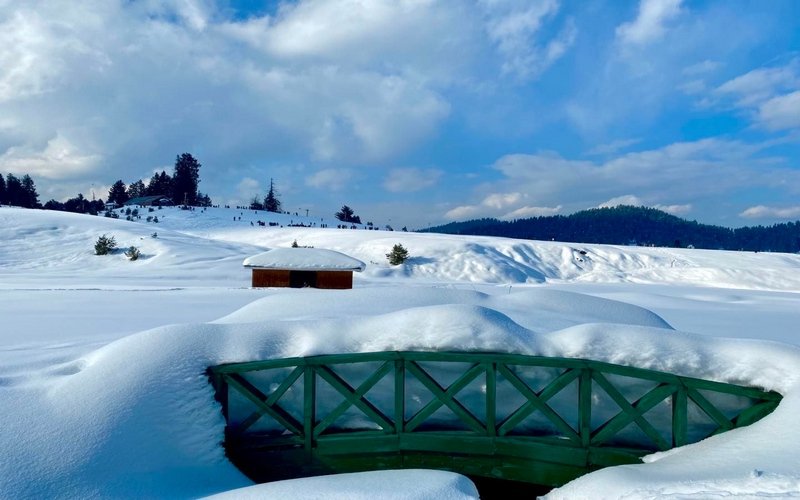 Places To Visit In Kashmir
Plan your next vacation in the exotic Kashmir and get ready to experience the beauty of the charming valleys, and alpine meadows. Sprawling across the lap of the PirPanjal mountains, this place holds some of the scenic places that truly need to be explored. Whether you are on a solo vacay, honeymoon vacay, or a family vacay, the places to visit in Kashmir are bound to make their way into your tour itinerary. So have a look at some amazing places for a fantabulous vacation-
List Of Best Places To Visit In Kashmir
1. Gulmarg
2. Pahalgam
3. Patnitop
4. Doda
5. Sonamarg
6. Srinagar
7. Betaab Valley
8. Pulwama
9. Yusmargv
10. Aru Valley
11. Dachigam National Park

1. Gulmarg
Renowned for its scenic beauty Gulmarg is rightly labelled as the meadow of flowers. Gulmarg is situated at an altitude of around 2730m above sea level. It is a famous skiing destination located in the PirPanjal range of the Union territory of Jammu and Kashmir. One can witness the various colourful flowers blooming during the spring season.
This beautiful destination is beautifully surrounded by the snow-covered lofty Himalayas and has the world's second-highest Gondola ride. If you are into adventure then Gulmarg is the right place for you. This place offers numerous options for skiing during snowfall.
Plan your visit during the winter season to witness snowfall that creates Gulmarg into a magnificent landscape. Capture some enchanting scenes of the snow-capped mountains and enjoy skiing during this particular season.
Best time to visit - The perfect time to visit this place is between mid-June to mid-October and December and January.
Nearby Attractions - Gulmarg Biosphere Reserve, Strawberry field, Apharwat peak, and Drung waterfall are some key attractions in Gulmarg.
Things to do - For a surreal experience make sure to indulge in skiing, Mountain biking,and trekking. Do not forget to carry your cameras to capture the fantastic pictures of the scenic vistas for your social media posts. Do not forget to enjoy a Gondola ride for a panoramic view of the valley.
2. Pahalgam
A great place for a vacation, Pahalgam is one such place that will remain in your memories for years. Pahalgam is nestled at an altitude of around 2700m above sea level. This beautiful destination is 95kms away from the main town of Srinagar and is situated at the confluence of the 2 streams- the Lidder river and the stream from the Sheshnag Lake. The lush green forests, pristine lakes, and pretty valleys are the USP of this fantabulous destination.
Pahalgam serves as the base of one of the major pilgrimages in India- the Amarnath Yatra. Pahalgam is that very place where the famous Bollywood movie Betaab was shot. If you are in Pahalgam do not forget to buy authentic Kashmiri saffron from Pampore.
Best time to visit - Plan your visit from mid-June to mid-October and December, and January to experience the tranquillity of nature in its true form.
Nearby Attractions - Visit some of the amazing places in Pahalgam- Betab valley, Mamal temple, Kolahoi Glacier, Chandanwari, Baisaran, and Sheshnag lake.
Things to do - Visit the Valleys of Aru and Betab. For a memorable experience enjoy canoeing, hiking and horse riding.
3. Patnitop
Are you more into adventure? then here is the fantabulous place, Patnitop for you. Not only ideal for adventure but yes a fantastic place to spend some peaceful time with your loved ones. Patnitop is a very popular hill station in the Udhampur district of Jammu and Kashmir. This fabulous destination is renowned for its endless meadows, and panoramic views of the snow-capped peaks of the Himalayas. Capture some astonishing views in Patnitop in your lenses that are truly worth capturing.
On a clear day in winter, one can enjoy paragliding at Dawariyai. Indulge in short treks with your family as this place has short treks that lead to Nathatop- a place to experience tranquillity. Another famous trek from Patnitop is Madhatop- is known for skiing and some other adventure activities too. One can even find 3 freshwater springs here that attract nature lovers.
Best time to visit - Plan a vacation here between May to June and September to October.
Nearby Attractions - Here are some places to cover during your vacation in Patnitop- Nathatop, Naag Mandir, Madhatop, and Shiva Ghar.
Things to do - Enjoy a plethora of activities here- skiing, trekking, and paragliding. Spend some time with your loved ones and enjoy your picnic with them amidst serene nature.
4. Doda
The Mini Kashmir, Doda is one of the hidden gems in Kashmir. This fabulous destination is known for holding two Hindu shrines- Athra Devi and Chandi Mata temple which is quite famous among the pilgrims. The beautiful Doda is situated at a good height of around 1107m above sea level. Apart from its scenic vistas, Doda is a favourite destination among adventure lovers. This beautiful destination is blessed with diversity in its landscape and is a paradise for adventure seekers.
Best time to visit - the perfect time to explore this fabulous destination is between March and November.
Nearby Attractions - Vasukinag temple, MachailChandi Mata temple, Gupt Ganga Temple, and Chinta Valley.
Things to do - Get indulge in enjoying trekking as the trails lead to fantastic scenic sites. Just set your camps and enjoy gazing at stars in the night and spend a serene time with your loved ones. Make sure to indulge in rock climbing too.
5. Sonamarg
A fantabulous picturesque destination, Sonamarg is one such place you must visit at least once in your lifetime. Rightly labelled as a meadow of Gold this place offers picture-perfect sceneries. Sonamarg is located around 80kms north-east of Srinagar and at an elevation of almost 2800kms from sea level. Enjoy a picnic here with your family in the beautiful meadows of Sonamarg.
This fabulous place is blessed with some beautiful trekking trails. One can find flower-laden paths that lead one through crystal clear waters and to some perfect camping sites. This destination is beautifully enveloped by the great Himalayan glaciers- Kolhoi glacier and Machoi Glacier and thus gives rise to the famous three sisters of Kashmir valley.
Best time to visit - Plan your visit here between June to October. Sonamarg remains inaccessible during winters from November to March as the NH1D connecting it to the nearby places closed down due to heavy snowfall and avalanches.
Nearby Tourist Attractions -Visit some of the amazing places here like- Vishansar Lake, Thajwas Glacier, Zoji La, and Nilagrad river.
Things to do -. Enjoy trekking, camping and photography. For a surreal experience, indulge in the tranquil nature walks.
6. Srinagar
One of the fantastic places for a surreal vacation, Srinagar is the major city in Kashmir that enjoys a good connection with all other major cities in India. Srinagar is the summer capital of Jammu and Kashmir and is the largest city of Kashmir and beautifully flaunts the local Kashmiri culture and art and gives a close outlook to the Kashmiri cuisine.
Be it boating, trekking bird watching, tours to scenic places or water skiing, Srinagar has it all. One of the key attractions in Srinagar is the Shikara ride over Dal lake. Just sit comfortably and click some pictures and make videos while riding Shikara boats. One can even indulge in buying things during theirShikara ride. Hire a houseboat that has few amenities right from wifi to meal facilities.
Best time to visit - Plan your visit between June to October and December and January.
Nearby Attractions - VisitDal Lake, Indira Gandhi Memorial Tulip Garden, Nigeen Lake, Aru Valley, Anchar Lake, Hari Parbat, Jamia Masjid, Mughal gardens and Nishant Bagh which are some major places to explore in Srinagar.
Things to do - enjoy staying at houseboats instead of luxury hotels and get another level of experience. Do not forget to explore the Mughal Gardens for a surreal experience.
7. Betaab Valley
Originally known as Hagan Valley or Hagoon, and presently known as BetaabValley, extremely became famous after the movie Betab was shot here. This beautiful place is located around 15kms from Pahalgam in the Anantnag district of Jammu and Kashmir. Beautifully surrounded by the snow-peaked mountains this place's landscape is dotted with trees like- Chinar, deodar, pine, willows, and poplars. What makes this valley a lovely destination is its lush meadows, majestic mountains, and dense vegetation that creates opportunities for sightseeing and photography.
Not only for scenic vistas this place is also perfect for horse riding. One can hire a horse for an hour and enjoy the fun-filled rides. Spend some time near the Lidder river with its green waters that truly complement its beauty. Capture the marvellous Amarnath mountain range in the backdrop. It is truly a fantastic place for picnic and sightseeing.
Best time to visit - Make sure to plan a visit between October to April.
Nearby Tourist Attractions - Visit Baisaran and Tulian lake for a surreal experience
Things to do - enjoy trekking and camping, go for a picnic, and visit the Bobby hut where the movie Bobby was shot.
8. Pulwama
Labelled as the Rice bowl of Kashmir, Pulwama is one of the quaint villages located in the Pulwama district in the state of Jammu and Kashmir. Located at a distance of 40kms from Srinagar this place has several tourist sites to explore. It is the 6th largest city in the state and is nestled at an elevation of 1630m. Enjoy exploring the apple orchards, gushing waterfalls, natural springs and scenic vistas. This place is also known for offering thrilling adventures.
Best time to visit - Plan your visit from April to October to enjoy the amiable weather.
Nearby Tourist Attractions - Add some major attractions here to your tour itinerary- Aharbal Waterfall, Tarsar and Marsar lake, Kungwattan, Kounsarnag Lake, Avantishwar temple, Shikargah, and Payer temple.
Things to do - enjoy mountaineering, and trekking in the summer season as it is the best time for such activities. In the winter indulge in skiing and snowboarding as it is the perfect time for this kind of winter sports.
9. Yusmarg
One of the amazing places to explore in Kashmir, Yusmarg is one such place you cannot miss exploring. It is one of the less frequented tourist places in Kashmir valley. The Meadow of Jesus, Yusmarg is a place renowned for its tranquil beauty. Around 4kms downhill from this place, one can see the Nil Nag lake which is truly a treat to the eyes. Yusmarg is renowned for its grassy pastures and deep forests with snow-covered mountains that create a wonderful backdrop.
Best time to visit - Plan a visit there between October to December and Spend some time here with your family amidst nature.
Nearby Attractions - Add some popular places to explore in Yusmarg- the foaming river Dudhganag, the Alpine lake, Nilnag Lake, the meadows of Tosa Maidan, Sang-e- Safed and the holy shrines of Charar-e-Sharief and Pakharpora Shrine,
Things to do - add trekking and pony riding to your itinerary and grab a wonderful experience to cherish for a lifetime.
10. Aru Valley
Situated around 12kms from Pahalgam, Aru valley is one of the wonderful places for a superb vacation that lies beside the Aru river, a tributary of the Lidder river and is located in the Anantnag district. This fantabulous place is renowned for its picturesque meadows, and activities like horse riding, hiking and trekking. Pahalgam serves as a base camp for numerous treks and lakes including Tarsar Lake and Kolhoi glacier.
Aru valley is home to the pristine Aru river which is the tributary of the Lidder river. A paradise for nature enthusiasts this place offers some adventure activities to travellers. During the winter months, Aru Valley beautifully gets covered with snow and becomes a famous destination for skiing and heli-skiing.
Best time to visit - The perfect time to visit this destination is between July to September, but if you want to indulge in heli-skiing and skiing then plan a trip in the winter season.
Nearby Tourist Attractions - Chandanwari, Betaab Valley, Baisaran, Tarsar Lake, Tulian Lake, Sheshnag Lake, Thajiwas Glacier, and Vishansar Lake.
Things to do- enjoy horse riding, trekking, enjoy a picnic with family members, grab an experience of skiing and Heli-skiing, and capture some fantabulous pictures with your lenses. For a unique experience enjoy fishing in the Aru river.
11. Dachigam National Park
If you love wildlife tours, then Dachigam National Park is a perfect place for you. This national park is home to indigenous species of plants and animals. Located around 22kms from Srinagar, one can reach easily. Dachigam National Park is home to the endangered Hangul or Kashmir stag and numerous other Himalayan wildlife species. With diverse flora and fauna, this very sanctuary makes it one of the major sanctuaries for wildlife enthusiasts.
One may find the Dagwan river that runs through it and Sangargulu Valley. If you love trekking then the Sangargulu valley or valley of flowers is the ideal trekking destination in this sanctuary to spot leopards and Koklass pheasants. Visit this sanctuary, spread over an area of 500 sq km and spot some Himalayan wild animals like- musk deer, leopard, Himalayan black bear and Himalayan brown bear along with other animals too. A paradise for bird lovers this sanctuary is home to several avifaunae like Cinnamon sparrow, Black Bulbul, Himalayan Monal, Golden Oriole and many more. A permit is required from the wildlife department office to visit this sanctuary.
Best time to visit - Plan a visit here between May to June and September to October.
Things to do - spot some wildlife species and capture some good pictures with your lenses, and make sure to indulge in trekking which is itself the most thrilling thing to do.
Tour Packages
Places, Best Time & Activities