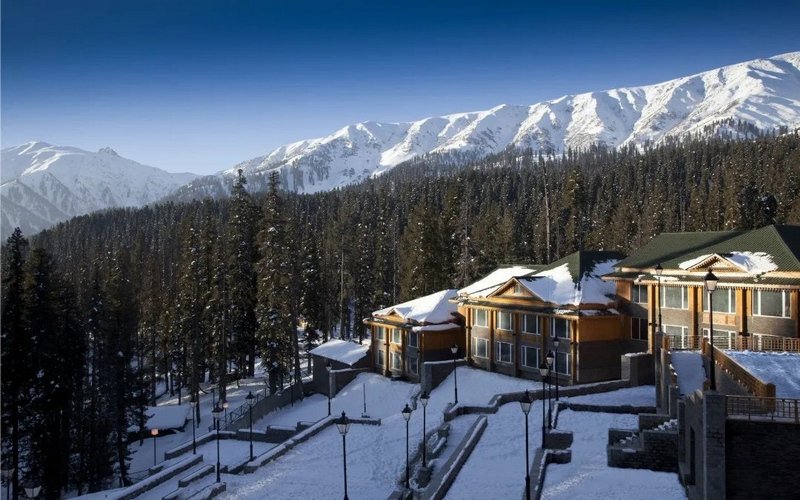 Things To Do In Kashmir
Kashmir is not only about scenic places but yes it is indeed famous for multiple things. Be it sightseeing tours, pilgrimage and heritage spots, or thrilling adventures, Kashmir has it all. The beautiful Kashmir offers a plethora of exciting things that will surely make your vacation a memorable one-
Top Activities & Things To Do In Kashmir
Enjoy a Shikara ride for a surreal experience
Stay in the Houseboat
Camping
Trekking
Snow Boarding, heli-skiing
Skiing
River Rafting
Paragliding
Gondola Ride
Shopping
1. Enjoy a Shikara ride for a surreal experience
Just lay back and praise the beauty of the gorgeous mountains as the boatman takes you through a Shikara ride across the lake. Shikara is a gondola-type light rowing boat dotting the surface of the Dal lake. Your Kashmir tour itinerary is incomplete without experiencing a Shikara ride.
It is one of the most recommended activities to indulge in. The serene views of colourful houseboats and Shikaras on the banks of lakes add charm to the surrounding atmosphere.
Enjoy the chirping of birds, click pictures of the gorgeous snow-capped peak in the background and yes shop from the floating shops and grab some eatables during your ride. Just relax and witness the glory of nature. Witness the Kashmiri lifestyle and floating markets. The famous lakes to enjoy this beautiful Shikara ride are- Dal Lake and Nagin Lake.
2. Stay in the Houseboat
For an unmatchable experience make your stay for at least 2 days at a houseboat docked at Dal Lake. Be it your honeymoon vacay, family vacay or your solo vacay, this is something you cannot miss experiencing. The houseboat has amenities like wifi, airport transfer facilities, and a meal facility. Houseboats are also known as floating houses that has cosy staying options. The warm hosts, scrumptious food, and the houseboats in Kashmir are equally adorned with the tranquilizing nature from all sides. Here is the list of some of the fantastic houseboats in Dal lake that one can consider for one's staycation. Just have a look- Mughal Sheraton Group of Houseboats, Royal Dandoo Palace Group of Houseboats, Butt's Clermont Houseboats, and Peacock houseboats.
3. Camping
If you love staying amidst wonderful serene nature, then head towards Kashmir. Camping in Kashmir is one of the most enjoyable activities to do. The Kashmir region of the union territory stretching from the beautiful golden meadows of serene Sonamarg and the picture-perfect valley of Pahalgam to the Great lakes amid high Himalayan peaks offers a plethora of opportunities for camping.
Several voyagers camp during trekking in the Kashmir valleys. Just take out some time and spend a night or two at the camp all away from the chaos of the cities. Just sit and gaze at the stars and spend some peaceful time amidst serene nature. March to October is the perfect time for this exotic activity. Head towards places like Gulmarg, Sonamarg, Pahalgam, Ary Valley, Yousmarg, Lidderwat, Mansbal lake and Chandanwari for a wonderful camping experience.
4. Trekking
If you love challenges then and trekking to your itinerary. Trekking is one of the most adventurous activities and a great way to witness nature. Kashmir offers great trails for trekking. Surrounded by Great Himalasys, pretty meadows, and water streams, trekking in Kashmir is a bit challenging yet exciting. Kashmir Great Lakes, Vishansaar Naranag trek, Naranag Gangabal trek, Pahalgam Tarsar Marsar trek are some famous trekking trails in Jammu and Kashmir.
5. Snow Boarding, heli-skiing
if you love winter sports then snowboarding, and heli-skiing are best for you. Head towards the beautiful Gulmarg and enjoy winter sports as this place has the world's best sloping hills.
6. Skiing
One of the exciting things to enjoy is skiing. One can try it during their vacation in Kashmir. With snow-covered peaks and slopes of the Himalayan mountain range in the backdrop, the state is blessed with destinations that are great for skiing- Gulmarg, Pahalgam, and Thajiwas glacier are some of them. If you want to add more thrill and fun you can go for Shark Fin, which is considered to be the perfect bowl for powder skiing. Located on the backside of Mount Apharwat, it is the preferred slope for expert skiers. Head towards Patnitop for skiing as it is considered an ideal skiing destination. Remember almost 5 to 6 ks from Patnitaop, the Madha Top on the Sanasar road attracts both amateurs and advanced skiers. You can visit from January to late February for skiing in Gulmarg and Patnitop.
7. River Rafting
One of the thrilling activities to enjoy in Kashmir is river rafting. Yes, the challenge of rafting the turbulent rivers fresh from glacial origins is exhilarating. Lidder river is perfect for river rafting.
The perfect time for this thrilling sport is between April to September. River rafting is much-much popular in the upper regions of Kashmir where the water is quite wild, crashing against narrow gorges, rocky outcrops, and falls at deep gradients.
8. Paragliding
Another famous thrilling adventure to experience is paragliding. The view of the pretty meadows and marvellous valleys while gliding over is truly an unmatchable experience.
Head towards Sonamarg, Gulmarg, Baderwah, Sanasar and Harwan, the top places to enjoy this aero sport. Just feel the solitude of being on the top and experience the thrill of gliding in the clear blue sky and capture the gorgeous view of the scenic views of the landscape.
9. Gondola Ride
For much fun have a ride in a Gondola cable car. Tourists prefer to travel via cable car to capture some awe-inspiring views of the snow-capped mountains. Plan in May as it is considered the best time for a ride. The gondola ride takes place in 3 phases-
Phase I- Gulmarg to Kongdoori
Phase II - Kongdoori to Alpharwat Peak
Phase III - Kongdoori to Mary Shoulder(Chair lift).
10. Shopping
Your tour is incomplete without grabbing some souvenirs from the famous markets of Kashmir. Go for some exquisite Kashmiri Handlooms, Pashmina shawls, antique copperware, local garments – Ferins, and expensive Doda sapphire. Visit the famous shops- Sarnal Payeen Anantang Kashmir for metal crafts, heritage for traditional wear, Ahmad complex for Kashmiri Jewellery, Shri Kedarnath shop for sandalwood and metals, Royal Kashmir for dry fruits, and Pick N Choose for tea products and much more products. Here is the list of some lovely products to buy on your next visit to Kashmir- Pashmina shawls, Blankets, Carpets, Traditional jewellery, Dress materials, Paper Mache products, and wooden objects, Silver items and Fruits and dry fruits.
Tour Packages