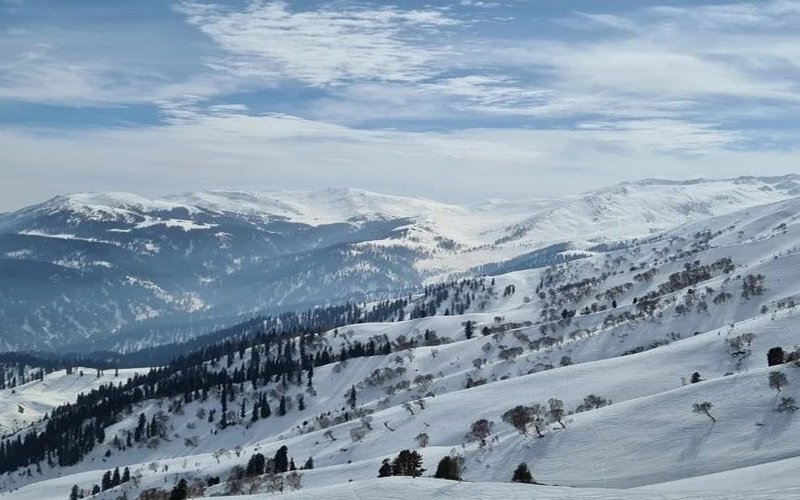 Best Time To Visit Kashmir
Kashmir is located among the Himalayans, Pri Panjal and Karakoram mountain ranges. Rightly labelled as the Paradise of Earth this fantabulous destination beautifully flaunts its pretty valleys, majestic mountains, pristine lakes, rich forests, and pretty meadows. The beautiful Kashmir is a year-round destination but if one wants to visit during a particular season then have a look at the below-
Summer Season
The serene Kashmir is a paradise for those seeking a blissful summer vacation amidst nature's bounty and awe-inspiring scenic vistas. The summer season in Kashmir starts from April to June when the temperature ranges between 30 to 31 degreesCelcius and the lower temperature also range between 9 to 15 degreesCelcius. Although the days are warm the nights are still cold.
Enjoy a picturesque Shikara ride on Dal Lake. Witness the sights of pretty flowers in the Mughal Gardens that bloom profusely during this time. Visit peaceful parks, and scenic places and explore some fantabulous places during this particular season- Gulmarg, Pahalgam, Sonamarg, Kathua, Pulwama, Kishtwar, Poonch, Doda, and Anantnag. It is indeed the perfect time for adventure junkies looking for activities like- trekking, hiking, camping, horseback riding rock climbing, mountain biking and wildlife safari.
Monsoon Season
The monsoon season commences from July till September with the temperature ranging between 15 to 30 degreesCelcius. During this particular season, all the places of Jammu and Kashmir receive heavy rainfall, but yes this season makes the Kashmir valley appealing.August is a fantastic time to witness apple picking in Kashmir. The popular Amarnath Yatra also begins this season. If visiting in this particular season then attend the Gurez festival, go for pony rides, enjoy golfing, and indulge in Bird watching.
Winter Season
The Winter season in Kashmir begins from October till Mid March when the temperature hovers between -2 to 12 degreesCelcius. December is the month when Kashir receives snowfall. January is the coldest month. During January the temperature ranges between -2 degreesCelcius to 12degreesCelcius but yes this climatic condition does not cease the travellers who come here to enjoy the snow and winter sports.
It is the perfect time for winter sports. During this particular season, tourists can head towards Gulmarg to enjoy skiing. Srinagar, Sonamarg and Pahalgam are some places where one can enjoy snowfall. Indulge in activities like trekking, ice skating, skiing, snowboarding,Heli skiing, camping, river rafting, paragliding, and mountain biking. So plan your visit accordingly.
Tour Packages