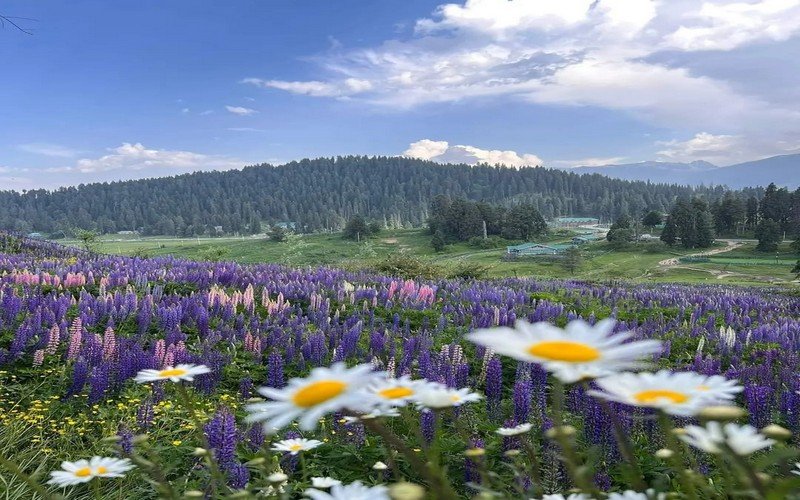 Gulmarg Tour Packages
Gulmarg is truly the heart of winter sports in India as it is the hub for adventure activity and the Indian Institute of skiing and mountaineering. Gulmarg is preached at an elevation of 2730 m above sea level and if you opt for the Gulmarg tour package during the winter months then you can surely enjoy the prominent activity performed there that is skiing.
It is located in the Pir Panjal range in the Northern part of India. Gulmarg is also blessed with natural beauty which can be experienced in our Gulmarg trip package where you will be witnessing the evergreen forest, fascinating valleys, Green Meadows, and lofty Himalayan ranges.
Gulmarg also has the second-highest Gondola ride in the world that can be enjoyed with this Gulmarg tour package where you can get a 360-degree view of the complete area that will surely leave you awestruck.
At Gulmarg, one can also learn different adventure courses that are offered by IISM such as snowboarding, skiing, trekking, mountaineering, etc. Other than this there are several private tour operators which also provide similar courses and equipment for performing these adventure activities. The Gulmarg Holiday Packages will let you explore the breathtaking destinations where different Bollywood films were shot.
| | | | |
| --- | --- | --- | --- |
| Tour Package | Price | Duration | |
| Gulmarg Package From Chennai | 24,000 | 2N/3D | |
| Gulmarg Package From Bangalore | 22,000 | 2N/3D | |
| Gulmarg Package From Kolkata | 22,000 | 2N/3D | |
| Gulmarg Package From Vadodara | 22,000 | 2N/3D | |
| Gulmarg Package From Delhi | 22,000 | 2N/3D | |
Tour Packages
Places, Things To Do & Activities
Frequently Asked Questions
Q :
What is the best time for the Gulmarg tour?
The best time for a Gulmarg tour is the summer season which is from April to June when the temperature is perfect for sightseeing. This is the perfect time to visit as the flowers are in full bloom. If one wants to plan a trip during the monsoon season which is between July and September then this is the season when you will not find much crowd. The beauty of lakes and waterfalls increases and makes flora a natural beauty.
The Winter season in Gulmarg is from October and March. This is the time when a lot of tourists visit Gulmarg for winter sports like skiing. For some more fun do not forget to attend the Gulmarg snow festival which is held every year for two days.
Q :
What activities can be done in Gulmarg?
Apart from visiting the astonishing places add these thrilling and exciting activities to your tour itinerary for a memorable vacation- Skiing, Gondola ride, trekking to the Alpather lake, golfing, bird watching and Pony ride.
Q :
How many days are enough to visit Gulmarg?
Two days are sufficient for Gulmarg. One day is needed to enjoy Gulmarg, and another day for the Gondola ride. For some amazing Gulmarg tour packages visit our website and book your favourite package today itself.
Q :
Which are the best places to visit in Gulmarg?
Here are some of the iconic places to explore during your vacation in Gulmarg- Alpather Lake, Golf Course, Gulmarg Biosphere Reserve, Drung Waterfall, Children's Park, strawberry Valley, Ningli Nalla, Khilanmarg, Apharwat peak, Seven Springs, and Maharani temple.
Q :
How can I book the Gulmarg trip with Travel Ride?
Choose from the wide range of Gulmarg tour packages from our website. Our Gulmarg tour packages hold a systematized tour itinerary which covers all the major places in Gulmarg.
Q :
What is the cost of a Gulmarg tour Package?
For amazing deals and offers on the Gulmarg tour package visit our website. Choose from the wide range of exotic Gulmarg tour packages and get ready to explore the wonderful places in Gulmarg.