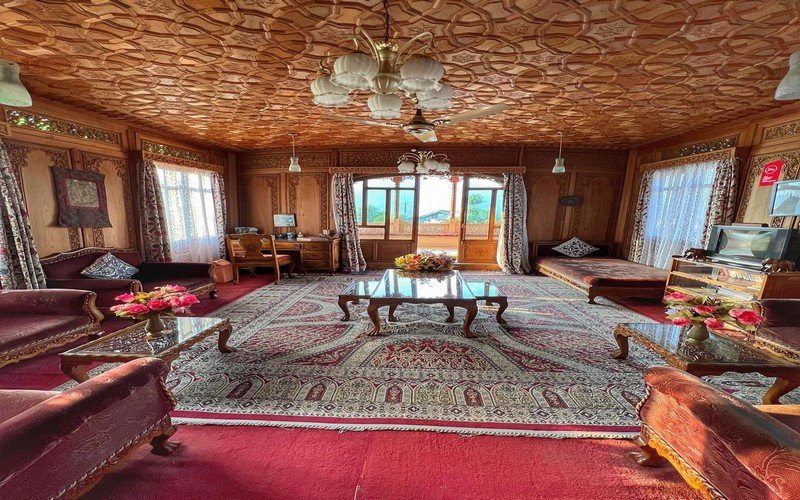 Luxury Houseboats In Kashmir
Enjoy your staycation inf the luxurious houseboats in Kashmir which offer modern amenities to provide facilities and comfort to the tourists. These houseboats are anchored on the banks of two very famous gorgeous lakes in Srinagar- Dal and Nigeen lake. These houseboats are perfect for people of age and travellers of all types. Whether you are on a family vacation, honeymoon vacation or a solo trip, a stay in these houseboats is truly a top-notch experience. The houseboats in Kashmir are made of cedar wood which stays as it is even after staying for years in the water.
The major highlight of the houseboats is the carved wood panelling. The walnut wood is used for furniture on which intricate carving is done. There is a porch area the major and lovely part of the boat for guests to sit and capture the mesmerizing views of the Dal Lake. The houseboats are the mini-hotel, or floating houses that vary in size, facilities and amenities ranging from Luxury to mid-range to budget houseboats. Have a look at the top five luxurious houseboats for an impeccable experience-
1. Butt's Clermont Houseboat
2. Naaz Kashmir
3. Gurkha Houseboats
4. Swan Group of Houseboats
5. Royal Dandoo Group of Houseboats
1. Butt's Clermont Houseboat
One of the luxury houseboats, Butt's Clermont houseboat overlooks the 400 years old Mughal garden- Naseem Bagh renowned for its chinar trees. This cosy and comfortable houseboat is stationed by the western shores of Dal lake and is one of the exotic mini-hotels equipped with modern amenities. They also arrange trekking for trekking enthusiasts.
2. Naaz Kashmir
The Naaz Kashmir houseboat in Nigeen Lake offers one a luxurious stay with modern amenities like wifi and a scrumptious meal. Make sure to stay at Naaz Kashmir and experience the warm and cosy atmosphere. Enjoy facilities like a bicycle on rent, a separate library and travel books to make your stay worthwhile.
3. Gurkha Houseboats
Gurkha houseboat is a luxury houseboat with three heavenly suites and 15 deluxe rooms anchored on Nigeen Lake. Overlooking the PirPanjal range and maple bushes around the carpeted suites with alluring décor this houseboat is worth a stay. The amenities here are- a 24X7 doctor on call, battery backup and staff that ensure one's cosy stay.
4. Swan Group of Houseboats
Swan Group of Houseboat is anchored on Dal lake. For a cosy stay, Swan Group of Houseboats is the best choice. It has carpeted super-deluxe rooms, 24X7 service, and free wifi. It arranges water skiing on Dal Lake and trekking tours in Sonamarg and Pahalgam. Enjoy your luxurious stay for an impeccable experience.
5. Royal Dandoo Group of Houseboats
Make your stay comfortable at Royal Dandoo Group of Houseboats located at a distance of 2kms from Lal Chowk city. This houseboat houses handicrafts and a cosy fireplace that makes it one of the most fantastic houseboats in Dal lake. It is equipped with modern amenities with the arrangement for bird-watching tours and picnics.
Tour Packages