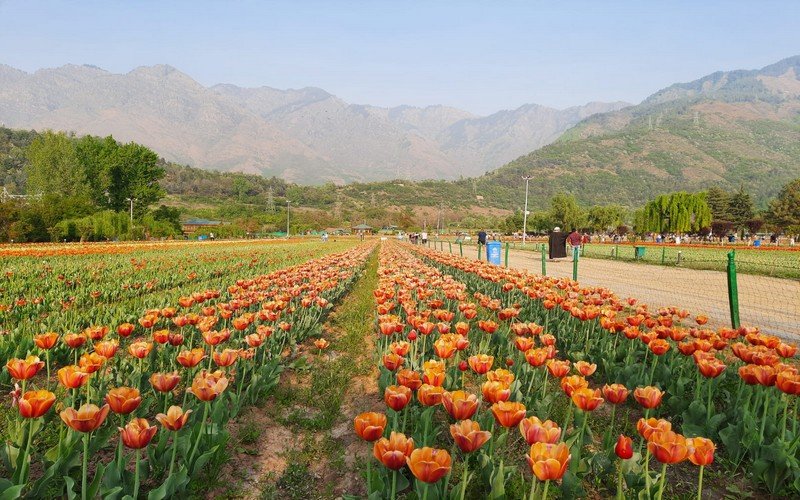 Tulip Garden Kashmir
The Indira Gandhi Memorial Tulip Garden is the largest in Asia, spread over 30 hectares of land and is located in the beautiful Srinagar. This tulip garden was opened in the year 2007 with the motto to boost tourism in the Kashmir valley. Earlier this garden was known as Siraj Bagh or Model Floriculture centre. This garden is named after the former prime minister of India, Indira Gandhi.
It is a seven terraced garden with a water channel and green areas for visitors. This tulip garden is renowned for 48 varieties of beautiful tulip flowers with more than 1.5 million tulips which are truly a treat for the eyes. The garden does not hold only tulip flowers but one can even find numerous other flowers namely- daffodils, rose, narcissus, hyacinths, and a very rare tree named Tulip Tree and other ornamental plants too.
The garden has several sections and each section is beautifully designed by the gardeners to make it alluring. Every section has different varieties of Tulips namely- strong gold, margaritas, and candela. The tulip garden is equipped with modern facilities-free wifie, fountains, washrooms, an open-air cafeteria, decorated stalls, and kiosks. This famous tulip garden is located at a distance of just 8kms from Lal Chowk-the main city centre of Srinagar, 18kms from Srinagar International airport and 17kms from Srinagar Railway station.
Best Time To Visit
Though this garden is open throughout the year for the visitors the apt time to visit the Tulip garden in April when the beautiful tulips are in full bloom. The prime attraction during this particular time is the annual Tulip festival.
Visiting Time- 9 am – 7 pm
Entry Fee- INR 50 for adults and INR 25 for children.
Tour Packages