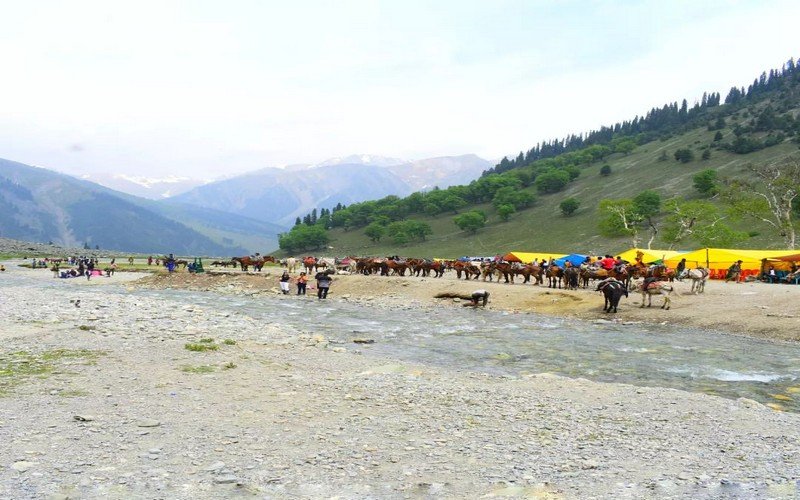 Sonmarg
A picturesque hill station, Sonamarg is located in the state of Jammu and Kashmir at an elevation of around 2800kms from sea level. This fantabulous destination is renowned for its astonishing snow-laden fields, surrounded by gorgeous glaciers and pristine lakes. Sonamarg acts as a base camp for the famous routes which lead to the pretty mountain lakes- GangabalVishansar, Gadsar, Satsar and Kishansar.
Plan your visit between March to June as the weather is quite salubrious at this particular time. Avoid visiting during the monsoon season which starts in July and ends in September. The winter season which is October to February is the time when Sonmarg is inaccessible due to heavy snowfall but those who are willing to witness the snowfall can pay a visit here at the beginning of December or in March.
This place holds some of the awe-inspiring places to explore- Thajiwas Glacier- is best for hiking, trekking, and camping. This place is lying at a distance of 3kms from Sonamarg and remains covered in snow all through the year, Zoji La Pass is located on the Indian National Highway 1D and is one of the highly perched and dangerous thrilling mountain passes in Kashmir.
This pass is famous for offering the enticing views and landscapes, Vishansar Lake- Lake of Vishnu, Vishansar lake is one of the famous oligotrophic lakes and is a sparkling blue lake beautifully surrounded by lush green meadows, alpine flowers, Gadsar lake- renowned as the Lake of flowers, or the Yemsar lake, beautifully features the mesmerizing alpine meadows, wildflowers and floating icebergs, Gangabal lake- is one of the perfect places to visit, Krishansar Lake- is an ideal place for nature lovers, and photography enthusiasts.
Enjoy trout fishing and angling here, Baltal valley- is the perfect base for the travellers to embark on the popular Amarnath Yatra and is renowned for its picturesque views, Satsar lake-is a beautiful conflux that houses seven clustered alpine lakes that are interconnected to each other ins a cascading formation, Yusmarg- is located in the hearth of PirPanjal mountain range and is famed as the Meadow of Jesus. Head towards this place and spend some time in peace and tranquillity, Nilagrad river- this river is considered to have miraculously healing powers.
Apart from your sightseeing tour add some amazing and interesting things to do in Sonamarg for a top-notch experience. Have a look at some exciting things to enjoy- Trekking-one of the most thrilling and interesting things to do is trekking. Sonamarg is a haven for trekkers and adventure seekers. Trek to the Machoi Peak, Amarnath Peak, Sirbal Peak, and Kolahoi Peak.
head towards Thajiwas glacier to enjoy camping and trekking, Rafting- enjoy rafting from Baltal till the end of Shutkari Bridge. This is the place where one can pick up a few stretches that are very easy for rafting, Skiing- enjoy skiing in Sonamarg at the arrival of winter. Skiing, ice skating and sledding on frozen glaciers are some of the key highlights, Trout fishing- enjoy this activity at Vishansar lake, Krishansar Lake, and Gangabal lake which are the perfect places for trout fishing.
Tour Packages