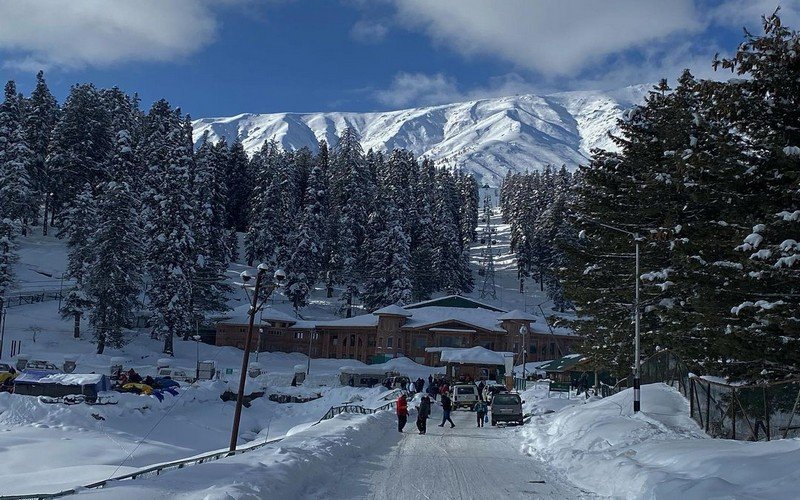 Places To Visit In Gulmarg
Beautifully located in the Pir Panjal range, Gulmarg is one of the most visited and most loved destinations among tourists. Renowned as one of the best skiing destinations in India, Gulmarg is beautifully adorned with lofty snow-capped mountains, rich greenery, and pristine lakes. Add some of the below mentioned fascinating places in Gulmarg to your tour itinerary for a top-notch experience-
A list Of Best Places To Visit In Gulmarg
1. Apharwat Lake
2. Strawberry Valley
3. Maharani Temple
4. Tangmarg
5. Gulmarg Biosphere Reserve
6. Seven Springs
7. Khilanmarg
8. Ningle Nallah
9. St. Mary's Church
10. Drung Waterfall
11. Gulmarg Golf Course
1. Apharwat Lake
Apharwat lake or the frozen lake is a high altitude lake that is fantabulously set amid the twin peak of Apharwat mountains and is nestled at a height of 4390m above sea level. It is one of the major attractions among the tourists and among the trekkers too. One in favour of trekking needs to follow the route starting from Gulmarg, Khilanmarg to Apharwat Ridge and then to Alpather lake. The trek is moderately difficult. The amazing thing about this lake is that it remains frozen for almost half the year from November to June. One may even reach here by catching a gondola ride from Gulmarg from Phase 2.
Best time to visit- June to September and November to mid-June
Gondola ride from Gulmarg for Phase 2 costs - INR 1600 per head.
2. Strawberry Valley
Head towards the serene Strawberry Valley beautifully located in Gulmarg. Witness the pretty green meadows with riped red strawberries dotting the entire area which truly gives one awe-inspiring sight to behold. Just take a leisurely walk along rows of strawberry plantations and admire the beauty of this enchanting place and take back home some juicy riped strawberries with you.
Best time to visit - March to July
Timings - 24 hours
3. Maharani Temple
Constructed by Queen Mohini Bai Sisodia, wife of the former king of Kashmir, Maharaja Hari Singh, the Maharani temple or Rani temple is one of the fabulous places to visit in Gulmarg and is constructed in Hindu style of architecture. This temple was constructed in the year 1915 and for several years served as the royal temple for the kings of the Dogra dynasty of the princely state, Jammu and Kashmir. This temple can be viewed from any corner of Gulmarg. Maharani Temple is also named the Mohineshwar Shivalaya and is devoted to Lord Shiva and Goddess Parvati. This temple is nestled on a small hillock amid serene surroundings which makes it a perfect place for meditation.
Timings - 6 am to 9 pm
Best time to visit - Throughout the year, the best time to visit is during Maha Shivratri.
4. Tangmarg
Renowned as the Gateway to Gulmarg, Tangmarg is a very famous stopover on the way to Gulmarg. A very beautiful town, Tangmarg beautifully features the serene natural beauty surrounding it. The majestic hills, gorgeous snow-caped peaks, dense jungles and pristine springs are what make Tangmarg one of the most breathtaking places to visit. Explore the local market here and grab some pretty handicraft items as a souvenir.
Best time to visit - April to October
Timings - open 24 hours
Nearby Attractions - Ningle Nallah, Babareshi, Drung, Zandpal, and Baderkoot
5. Gulmarg Biosphere Reserve
A paradise for wildlife lovers, Gulmarg Biosphere Reserve is spread across an area of 180 sq km and is home to a plethora of species of flora, fauna and birds. Spot the musk deer, brown bear, leopard, hangul, serow, black bear and red fox while venturing into the deeper ends of the forest, also spot a rich array of avifauna like upland birds and pheasants. Get a glimpse of Griffon, monal, vulture, European hoopoe, Kashmir roller, blue rock pigeon, and snow cock.
Best time to visit - September to May.
Entry fee - INR 500
Timings - 10 am to 4 pm
6. Seven Springs
The name itself suggests that Seven Springs is the seven natural outlets of water here. A gorgeous stream is nestled atop a little hill near Kongdori. It is one of the major tourist attractions among visitors. One can reach here by taking a Gondola cable car ride from the base of the Aparhwat mountain. This place offers wondrous views of the gorgeous mountains and valleys. Catch the glimpse of Srinagar and Gulmarg valley from here.
Best time to visit - throughout the year
Timings - 24 hours
7. Khilanmarg
Located around 4kms away from the Gulmarg bus stop, Khilanmarg is one of the prime attractions among travellers. Capture the surreal views of the Jhelum, Dal and Wular and the revered Shankaracharya temple from here. Get a glimpse of the tallest Himalayan peaks from here- Nanga Parbat and the twin Peaks of the Nun and Kun.
Best time to visit - Between May and September and between November and February.
Timings - 24 hours
8. Ningle Nallah
A very serene mountain stream, Ningle Nallah is one of the fabulous attractions to witness in Gulmarg and is situated around 10kms from the town of Gulmarg. It is a mountain stream with freezing pristine water that finds its source in the Alpather lake and from the melting of ice in the Apharwat peak. This mountain stream is beautifully surrounded by snow-capped mountains and lush green pastures. Ningle Nallah is fantastic for picnics and camping. The rocky terrain here truly adds to the beauty of Ningle Nallah.
Best time to visit - April to June
Timings - Open 24 hours
9. St. Mary's Church
Built during the British Raj in the year 1902, St. Mary's Church is constructed in Victorian architecture. This beautiful church is located a very close distance to the Golf Course of Gulmarg. Pay a visit to this serene place that is beautifully surrounded by the verdant meadows, pine trees and gorgeous mountains. The church is beautifully adorned with stained glass and wooden wall panels and frescoes that depict the scenes from the holy bible.
Best time to visit - Throughout the year
Timings - 10 am to 5 pm
10. Drung Waterfall
For an absolute experience add Drung Waterfall to your Gulmarg tour itinerary. Drung waterfall is one of the major attractions among tourists. The water of this pristine waterfall freezes completely during the winter season when the temperature hovers a sub-zero degree. Explore the surrounding caves which is an amazing experience in itself. Have a plate of snacks and a hot cup of tea from the small shacks around this place. Visit the temple which is nearby to this place.
Best time to visit - throughout the year
Timings - 24 hours
11. Gulmarg Golf Course
Gulmarg Golf course is a renowned highest 18-hole golf course in the world. It is also the longest in the world and is located at an altitude of 8700 ft above sea level. It was initially used by the British to play golf during pre-independence. In the year 2011, it was inaugurated as a golf course.
Best time to visit - it remains open between April and November.
Fee - for 9 Holes- INR800 and 18 Holes INR1200
Tour Packages
Places, Best Time & Activities